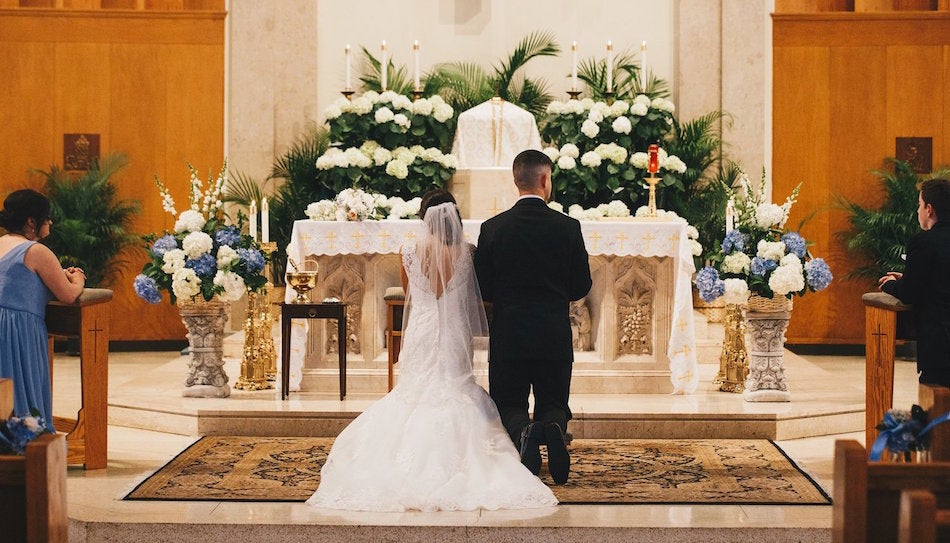 Matrimony
"By the sacrament of marriage, Christians signify and share in the mystery of the unity and fruitful love which exists between Christ and his Church. They help each other to attain holiness in their married life and in the rearing and education of their children." 
(Rite of Marriage, n. 1)
Due to the current government restrictions, Baptisms/Weddings/Anointing of the Sick have been suspended until further notice. Please do not hesitate to contact the parish office if you have any queries 9412 8493.
The Catholic Parish of Kinglake, Mernda & Whittlesea has three churches available for weddings –
- St Mary's Church, Kinglake;
- St Mary's Church, Whittlesea and
- St Joseph's Church, Mernda. (It would be good to note that St Joseph's church has limited capacity and can seat a maximum of only 80 people. )
Contact the parish office on 9412 8493 to check the availability of churches.
Marriage Preparation Course  
It is the policy of the Archdiocese that couples undertake an approved marriage preparation course. These programs are designed to open up many issues which contribute to a successful and happy marriage. Your celebrant will guide you in your choice. 
Previous Marriage
If either partner has been through any form of marriage before, no matter where or when, it is important to make this fact know before making a firm booking 
Marriage Papers/Documents, you will need to provide your:
birth certificate or passport if not available
baptism certificate
freedom to marry certificate from your local parish
permission and freedom to marry [if bride resides in another parish]
Wedding Ceremony  
The wedding ceremony is celebrated either within a Nuptial mass or a service alone. The priest will discuss both options with you and assist you to make the appropriate choice 
A Wedding Resource containing a variety of scripture readings and other elements in the ceremony is given to you to choose a selection that suits you. 
Music: 
Music for weddings in our Churches is required to be presented to the celebrant for approval before the wedding. 
Musicians are organised by the couple at their own cost. Recorded music [tapes/ CDs/ ipods] can be played and this will need to be hooked up to the respective church's sound system, Ue boom devises are also allowed.
A variety of instrumental and vocal music is possible at weddings, but it must be in keeping with the sacred nature of the ceremony. 
Wedding Offering for our Churches is $350. 
A deposit of $150 is required to secure the booking and the balance of $200 is to be paid two months prior to the wedding. 
[Use of church only - $200 payable a time of confirmation] 
Flowers:
Flowers are organised by the couple at their own cost 
Fresh flowers are placed in the church each week at no additional cost
Very simple pew bows are available for your use on request 
We do not permit paper confetti or rice to be thrown on the church grounds [rose petal can be thrown outside the church ONLY]
Please contact the parish office for further details.
Please download the wedding brochure here.
The wedding query form can be downloaded here.