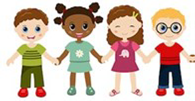 We are a Child Safe Parish. We hold the care, safety and well-being of children, young people and vulnerable adults as a central and fundamental responsibility of our community.


CHILD SAFETY WEEK (5-12 SEPTEMBER 2021)
This week is Child Safety Week which will culminate in Safeguarding Sunday on September 12. All of us are responsible to keep children safe while promoting the importance of Children's safety and wellbeing. In line with Parish Child Safety Policies, the members of the Safeguarding Children and Young People Committee are building an overall risk analysis across our Parish communities beginning with the weekend Masses. Considering the structural differences of each community worships space, the members will be adapting the previously used Risk Assessment Template with Covid-19 regulations. We thank them for their hard work.
AUGUST 2021 UPDATE
The Parish Safeguarding Committee met this week to discuss a recent webinar attended by members.The Webinar, hosted by the Professional Standards Unit of the Archdiocese of Melbourne covered "Risk Assessment and Analysis for your Parish".
We heard from different parishes across Melbourne and the method they each undertook to assess the risk to children and young people in various events and practise of that Parish. As we move forward to a place where we can gather, particular members will be conducting a risk assessment to identify areas of risk at our weekend Mass in each community.
To comply with criteria regarding the safety of children participating in the Sacrament Preparation zoom classes, Karen Bettinoti will join Sandy Starbuck beginning in September. 
Our next committee meeting will be 14th October 2021.
Resources: