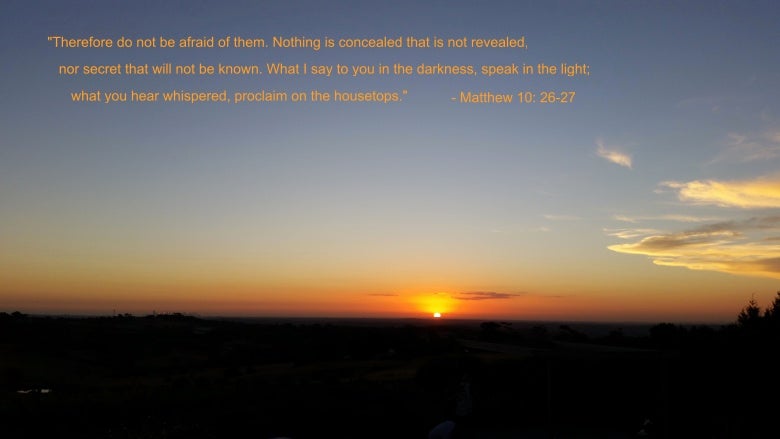 Mass Readings
Reading 1 – Jeremiah 20:10-13
Psalm – Psalm 69:8-35
Reading 2 – Romans 5:12-15
Gospel – Matthew 10:26-33
Homily
A few days ago I saw a video of a song - Blessing Australia. In the midst of this pandemic and the various restrictions that we have all experienced a song was produced, sung by three hundred Christians from the various Christian denominations around Australia. The singers and musicians unable to do this by gathering together, but each from their own home or studio setting were filmed and together they were screened singing a blessing over Australia using verses from the Book of Numbers in the bible. As well as the song itself there were also scenes of the Australian landscape including scenes of people packing hampers for people in need. The overall purpose of this initiative was to reach out to people through Youtube and with this song of blessing to provide people watching a sense of God's closeness to us during this difficult and uncertain time. Many have found the words and the music consoling, uplifting and encouraging. Many thousands have viewed it since.
What was also taking place was Christians giving witness to their faith in this particular way at this time when restrictions could not make it possible to perform it in any other way at the present time. It called for creativity and a generosity of spirit from all involved. Being a disciple of Jesus is lived out in all kinds of ways at this time, in ways that might not even have been thought of before.
For us as disciples of Jesus what does our discipleship look like at this time? We can't help but recognize that we live in a changed time whether within our family or work environment or a part of the broader community. We experience a sense of vulnerability in the face of the COVID-19, we are aware of the mental stresses that can take hold of us. Even in the midst of scientific and technological advances, we also have a deep realisation of how finite we are on this earth. As a result we find ourselves examining questions around the meaning of life. Whether we are people of faith or not, even the question of God can arise in our consciousness precisely because we are in the midst of this anxious time brought on by this pandemic.
So our following of Jesus, can be a precious moment given to us to give witness to our faith within family and beyond. The kinds of conversations taking place can provide us with opportunities to speak of our faith, our relationship with God in simple and genuine ways. Our witness can have a different flavour to it. We may be naturally coy about expressing our faith within a culture that can seem resistant or even dismissive. Yet Jesus today says to us in the Gospel in the face of difficulty and opposition "Do not be afraid". He accompanies us and invites us to be bold with the words "What I say to you in the dark, tell it in the daylight. What you hear in whispers proclaim from the housetops." We have something precious to offer - the very presence of God being there for us in this moment and his compassionate love revealed in Jesus. The singing of the Blessing Song for Australia is but one way of giving witness to what our Christian faith means for us and the joy and comfort it can be for others. But there are many others ways too during this time.
The Vinnies CEO Sleep out was held last Thursday night on the 18th of June. It was a cold night to be sleeping out, yet hundreds of CEOs from the various companies and organisations have been doing this for the last 15 years. They have slept outdoors to raise funds to support the many people who are homeless in our community. This year because of the COVID-19 restrictions of not being able to be in groups, they had to choose other options like sleeping on a couch, in their back yard, or in the car. Our own Archbishop Peter joined them this year. The event took place in the dark of night and through their witness was revealed the light of Christ's compassion for those in need.
Our own actions too speak of our witness as disciples of Jesus. Each of our own families has their own story and their own challenges. Maybe we can sense there is a different flavour to our discipleship at this time by being more attentive to being more patient and accepting of each other in this time of frustration. Making those extra phone calls or texts to people whom we feel can be isolated or dropping off some extra food to someone in need. Intentionally engaging in actions like this is giving witness to Christ. Those who have been able to be involved in our parish Care Call Program give witness to the nearness of God's love with those we connect with. In the midst of this pandemic each of us is invited to be sensitive to God's call and to give witness to being disciples of Jesus in a way that will have its own unique flavour to it.
St Paul's relationship with Jesus transformed his life. In the second reading today Paul within his own life was so conscious that he was gifted with the saving and reconciling love of God. He received this precious gift with humility and gratitude. Not only did he receive this gift, he gave witness to this transforming love of Christ to the many communities he was sent to. Like Paul, we too have received this wonderful gift of God's love revealed in Christ. We pray for the grace to give witness to this Love in ways best suited to these times thereby being a source of hope and encouragement for those we relate to in the world around us.
Fr Martin Ashe
Christ the Light Parish