We keep in prayer all those working to fight the pandemic and all those grieving the loss of loved ones. We also pray for the families you serve, as they learn new ways of living as the domestic church.
Ascension and Pentecost
Ascension and Pentecost are the two great feasts that signal the end of the Easter season. Celebrate using these ideas from Loyola Press.
Ascension to Pentecost: The First Novena—Free Poster and Booklet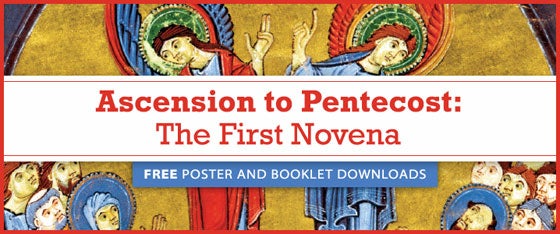 Download this free poster and printable booklet about the history and impact of novenas.

Sunday Connection for Ascension
Prepare to hear the Gospel message for the Ascension.
Waiting for the Spirit Online Retreat

Spend the days between Ascension and Pentecost in prayer with the online retreat, Waiting for the Spirit. Our nine-day spiritual retreat series will start May 22, 2020, and conclude May 30, the Vigil of Pentecost. Each day will include prayer suggestions and a video reflection inspired by the daily Gospel.
Bring the celebration of Pentecost home with our prayer service, crossword puzzle, and family handout.
In this new video series, Joe Paprocki shares bite-size suggestions for how to make faith alive in the home. View recent episodes.

Praying the Rosary as a Family
First Eucharist Retreat at Home
Source: Loyola Press